Date/Time
09/09/20
11:00 am - 1:00 pm

Location
Unitarian Universalist Church of Brunswick
1 Middle Street
Brunswick, ME 04011
United States



Cookbooks for Sale at the UU Church of Brunswick
The Coronavirus Obliges the Church to Sell the Books Outdoors
Wednesdays in September, 11 am to 1 pm
After months of collecting recipes from church members and friends, typing the recipes in the required format, proofreading them several times, and getting them professionally printed, the UU Church of Brunswick is now ready to sell them. Monies raised from the sales will go towards printing costs and to church programming.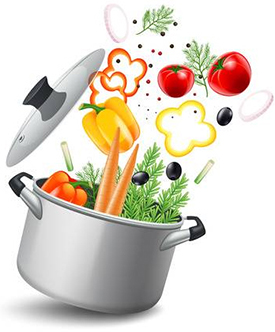 The cookbook was imagined during one of the church's many food-related events. Every year, the church sponsors a SoUUps On luncheon where church members share soup, bread and desserts. This year, a couple of parishioners were wishing that they had the recipes to some of these soups, and then they overheard many others wishing the same thing. So why not collect some of these recipes so that everyone will know how to cook these scrumptious foods? If you've ever been to the UUCB Holiday Fair, you know that the public comes for the church's delicious soups, chowders, muffins/scones, and pies as much as they come for the crafts. The church is well-known for their tasty, nutritious cooking, but there are a few sinful recipes in the book as well. If you've ever attended one of our Concerts for a Cause or other public events, you know that the church volunteers make great cookies and other snacks. And to prove that UUCB is an equal opportunity organization, many of the good cooks and recipes come from the men of the church.
The whimsical spiral bound cookbook costs $10 and features 250 recipes divided into 6 different sections: Soups & Salads, Breads (including rolls. biscuits, muffins, and scones), Main Dishes (including breakfast/brunch, meat, seafood, vegetarian, vegan, and pasta dishes), Side dishes, Appetizers, and Desserts. The book also contains many pages of helpful cooking hints along with a few colored pictures of the church and its events. Each recipe will feature the donor's name, so everyone can easily locate the favorite recipes of their friends.
The original plan was to sell these cookbooks after church services and at the Holiday Fair and other events. Since the Coronavirus has prevented the church from doing that, a plan has been devised for church members and the public to buy the book with minimal hardship and contact.
Curbside Pickup: Membership Committee members, wearing masks, will have tables set up outside the church entry every Wednesday in September from 11am to 1pm. No need to even get out of your car. Just hand the seller a $10 bill or a check made out to UUCB, and she will hand you the cookbook. Because of Covid we are asking people to have exact change to minimize the handling of money.
(Rain day: Thursdays)
If you are not able to pick the book up during the appointed time, email michaud_susan@comcast.net to make alternative arrangements.